Some people are often at a loss on how to celebrate their birthdays. On the bright side, there are others who want to do something meaningful and do it in style. Donna Weaver of the Press of Atlantic City in New Jersey has one such story to tell: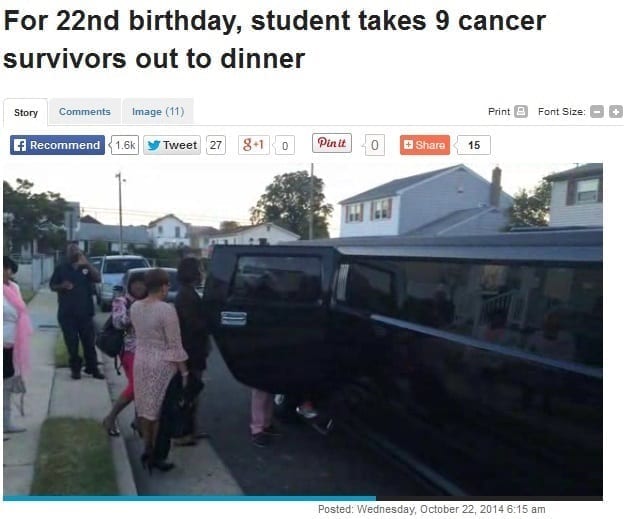 Elijah Langford turned 22 years old Tuesday, and he had a very special dinner date at the Melting Pot in Atlantic City.
The Richard Stockton College senior said he wanted to celebrate life on his birthday and give back, so he escorted nine female cancer survivors to dinner in a stretch limo.
What happened in the AC will resonate well with residents in Indianapolis. Some organizations hold special activities for people afflicted with the Big C and always inspire them to stay strong; the Indianapolis Colts held a similar event during one of their Tuesday days-off. If you are looking to make your own birthday party special and not have to worry about hiking around the city, consider choosing a limo rental from Antique Limousine.
Planning to take out friends and loved ones often requires determining the size of the expected entourage. This will help you choose which vehicles in your preferred limo service's fleet can be used to capacity, whether it's a stretch SUV or a tour bus. Langford rented a stretch limo for the "dinner date" and arranged for pickup at his house.
Browsing through a limo service's catalog will also yield data on the rental rates for each vehicle package, plus a slight gratuity percentage for the driver. Certain vehicles can be rented between one to three hours. Plan ahead, however, if you need a vehicle for an all-day run, which usually lasts 12 hours. This is essential, as some limo rentals mandate limiting the duration of the rental to 1am the following day.
Renting out a limousine to bring your friends and loved ones together for a community activity on your special day is always a fun thing to do. When you undertake that through an Indianapolis limo rental firm like Antique Limousine, you help spread the message that people must always give back to their community.
(Source: For 22nd birthday, student takes 9 cancer survivors out to dinner, Press of Atlantic City, 22 October 2014)
Renting a Limo in Indianapolis for Birthday Parties and Other Events
Limousines are some of the more unusual vehicles to drive around in, but they have a uniquely regal appeal of their own. Although limousines have always been associated with the rich and famous, it is possible for even regular folks to rent one for a single day or two. This characteristic makes them perfect as transportation for celebrations.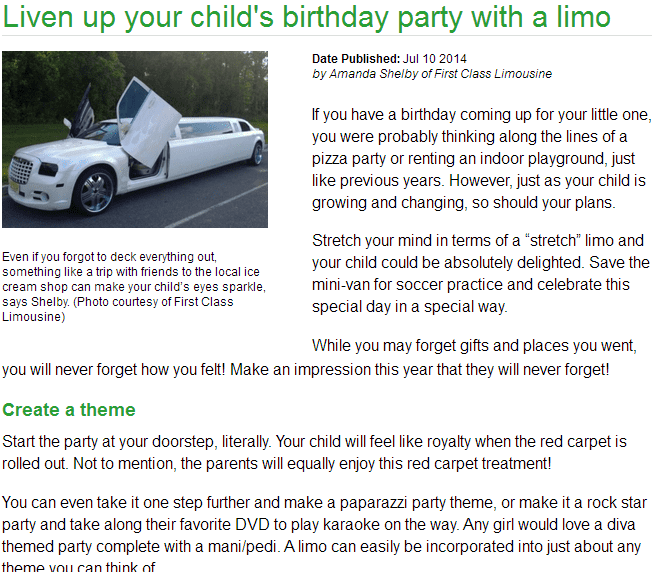 Indeed, it is not unheard of for parents to hold "limo parties" for their kids; such grandiose rides easily catch the attention of everyone else, and make the passengers feel like celebrities. A recent article posted on Angie's List discussed how a limo can be used to make a little one's special day even more memorable:
"Consider logistics
Additionally, logistics are always in your favor with a limo. No matter how large your party is, there is a limo to accommodate a party of up to 32 easily to facilitate your carpooling experience tenfold.

If you are spending the day in a large city, you don't have to worry about parking at all. Your chauffeur can be ready whenever and wherever you are. As an added bonus, you are sure to make a grand entrance.

Keep it simple
Even if you forgot to deck everything out this year, something like a trip with friends to the local ice cream shop can make your child's eyes sparkle. A limo can easily transform the ordinary into extraordinary. Even if it is the same route they normally take, there is something about viewing the scenery from inside a limo that makes it more magical."
Indianapolis residents can hire a limousine service for these kinds of events as well as for other similarly special occasions. The region might be all about cars, but limos are an unusual sight, and they are sure to be a treat to ride in for those who have yet to experience them. Hiring a limo rental service in Indianapolis is also a lot easier than it sounds thanks to established companies like Antique Limousine of Indianapolis.
A limo rental can be tasked to take birthday celebrants and their friends around town, and maybe even accompany them at the local ice cream parlors or cinemas for the children to enjoy an afternoon of sweets or movies. Limos can make ordinary parties feel extravagant, and parents might want to consider such an option for their children's next celebration.
(Source: Liven up your child's birthday party with a limo, Angie's List, Jul. 10, 2014)