Before the first limousine companies went into service, the elegant, fancy limousine business that we know today underwent several changes throughout history. Yahoo! Voices contributor Cedric Lacroix briefly discussed how it all began.
"The concept of having chauffeur driven vehicles dates back to the era of horse drawn carriages in the 1700s. The carriages were overstated with gold and they were drawn by the best looking animals. This service was anticipated for the wealthy. In the 1900, some of the engine powered carriages were designed with 2 compartments. The chauffeur had a covered compartment outside and the other compartment, also covered, was for the fare."
Horse-drawn carriages weren't called "limousines" back then. The term only caught on in 1902, when the luxury carriages then were sedan manned by a chauffeur. The term itself originated from the hooded regional attire of the shepherds from the Limousin region of France. The cars then came to be called limousines because the chauffeur (who lacked an enclosed cockpit area) had to wear apparel that closely resembled what the shepherds of Limousin wore.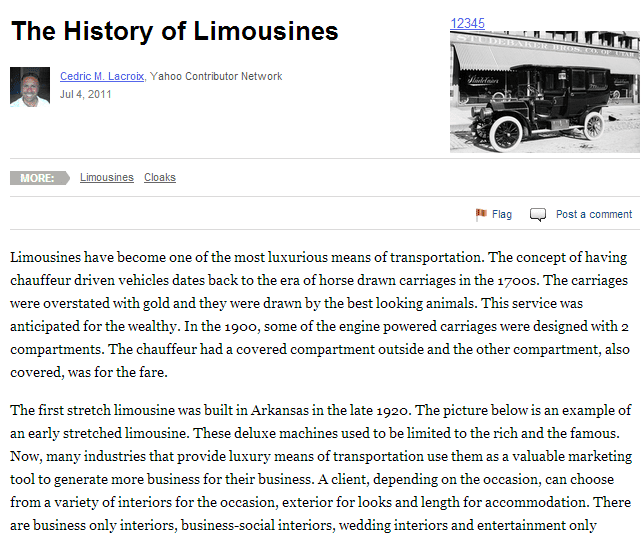 Some of the first extended cars, A.K.A. stretch limousines were manufactured in North America around 1928, and subsequently entered service as transportation for musical bands. Originally called "Big Band Buses," the predecessors of today's stretch limos regularly transported renowned acts like the Glenn Miller Orchestra and their equipment from state to state during tours.
In the 1930s, the limousine's popularity soared to new heights. During those times, they were used to transport guests straight from the airport to the hotel, earning them the moniker the "Airporter Stretch Coach." The movie industry caught up in the limo hype, too, using the vehicle  to transport film crews and stage personnel to film sets. It was only a matter of time before the vehicles themselves became associated with celebrities.
Fast-forward to today and the stretch limousine's fancy image is pervasive. Actors, actresses, rock stars, and U.S. presidents are regularly transported using these vehicles, making them one of the foremost symbols of affluence next to shiny diamonds or private planes.
However, while they may look exclusive to the wealthy or powerful, a limousine service is still within the reach of ordinary folks looking to stroll around the city or arrive at an event in style. Reputable limo services in Indianapolis are available locally and throughout the surrounding areas to give anyone the ride of their dreams, the ultimate taxi ride in comfort and style, or maybe just to give the curious a taste of automobile history.
(Source: The History of Limousines, Yahoo! Voices, July 4, 2011)