No memorable Indy wedding can go on without the groom having his party on with friends first, and if Hollywood is to be believed, no bachelor party can happen without booze, laughter, and a whole lot of hijinks. If you want to make sure that your party never gets stale as the night wanes on, you can always hire trusted limo services in Indianapolis to take you to various places around the Circle City without having to worry about who the designated driver is. As to where you can go, here are some affordable ideas that you might want to consider: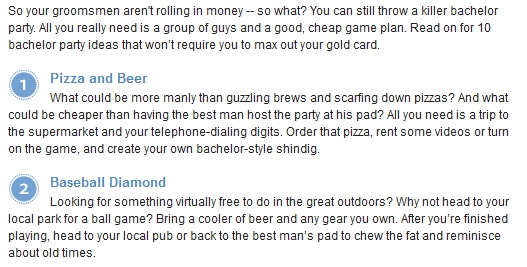 Bowling
Before you get sloshed with your buddies, how about a nice, friendly competition inside a bowling alley first? There are nice spots you can try in Emerson Avenue, Massachusetts Avenue, or in Washington Street. You can even up the stakes a bit by having the losing team buy the first round of drinks or pay for dinner.
Game Night
If you're a big Pacers or Indiana Ice fan, and your bachelor party happens to coincide with a major game, you don't have to sacrifice either to have the time of your lives. Hit downtown Indy and take your party to sports clubs and watch the action unfold while holding a nice mug of beer in one hand.
Roast
You'd probably want to spend a part of your bachelor party hearing stuff your buds want to say to and about you, and if you want to save the sappy, emotional stuff for the wedding reception, turn it into a roast instead. The Knot writer Elise Proulx tells how:
You've heard of Friar's Club roasts — events honoring one person during which various and sundry friends and colleagues rip and rib the hell out of him. Sound vaguely like the trash talk you guys give each other when you play ball? Round up the guys and build a "throne" for the groom (imagination is a necessity here), then fill the room (whether at a restaurant, bar, or home) and launch into the guy. Remember to keep it light.
Paintball
If you want a way to vent after your best man and friends "roasted" you, why not shoot them up nice with paint pellets? Take them to places like White River Paintball or Dark Armies and show them the error of their ways!
There are always fun ways to celebrate your last day as a bachelor, and in a city like Indianapolis, you don't have a shortage of choices. Of course, the best way to hit more than just one of these places is by hiring reliable bachelor party limo service from companies like Antique Limousine of Indianapolis.
Ideas for a Clean Bachelor's Party
A wedding night could be just as stressful for any groom as it is for the bride. As with the brides, grooms, too, along with their entourage, could use some "off-time" before the big exchange of "I dos," and if brides could have their bridal shower, so could grooms with their own bachelor's party.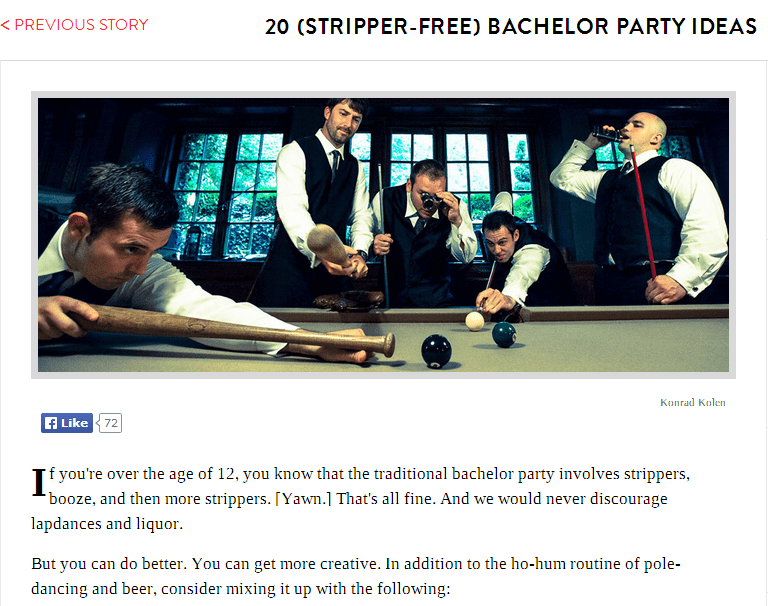 Typically, among younger party-goers, a bachelor party would be as this writer of ThePlunge.com describes: " If you're over the age of 12, you know that the traditional bachelor party involves strippers, booze, and then more strippers. [Yawn.] That's all fine. And we would never discourage lapdances and liquor."  Frankly, though, those stereotypical assumptions of a bachelor's party are not everyone's thing.
For guys not into all that, it can be tough to dig up ideas for a fun, unique celebration, but the ideas are out there, all right. Here are a few ideas for some bachelor party events that can be just as memorable – minus the strippers.
Sports Tournament
A group of athletically inclined men can organize a sports tournament complete with custom tee-shirts, personalized hats, and all other items related to sports fandom. Some good sports include basketball, baseball, football, soccer, and golf. On the other hand, if there are more watchers or observers than actual players in the group, they can just go rent a fancy limo in Indianapolis to go see the groom's favorite team in the arena.
Adventure Outing
If the groom is an adventure and outdoors buff, why not go camping out? There's a wide array of choices for group trips outdoor, such as overnight fishing trips or hunting parties (complete with a rented cabin), kayaking, ATV riding, or zip lining. Before the day ends, a couple swigs of good beer around a campfire should add an intimate touch to the camaraderie to make the celebration much more special.
Classic steak dinner
Call up a trusty Indianapolis limo rental service and hit one of the country's best steak houses in style; the likes of Morton's, Ruth's Chris, or Peter Luger. After eating a juicy load of premium beef, head out to the fanciest wine cellars and cigar houses to unwind and relax the night away while exchanging "bro" stories.
Limo rental services like Antique Limousine of Indianapolis are on hand to make any bachelor's night around town with friends, go smooth and stress-free as the party bumps from one destination to another. Only a call or message away, a dependable limo service can make your bachelor's night-out just as clean and safe—and memorable—as any other's.
(Source: 20 (Stripper-Free) Bachelor Party Ideas, ThePlunge.com)