Bachelorette Party Transporation
We're calling on all of the single ladies for this one… that's right, the ring is on your finger, and the date has been set. The wedding details have all been figured out except for one thing… the bachelorette party. If your wedding is just around the corner, your friends should give you a party you will not forget to celebrate the last few days of the single life.
At Antique Limousine of Indianapolis, we want to make your bachelorette party truly incredible. With our impressive limo rentals, expert staff and drivers; we can provide you with a one-of-a-kind and unforgettable night to remember. Our 12-passenger Sprinter limo rental and 24-passenger party bus rental are both popular choices for bachelor and bachelorette parties. They feature hardwood floors and spacious leather seating along with LED lighting so you can get the party started as soon as you set foot inside. Our USB charging ports will keep your mobile phones charged while you sip on cocktails (BYOB) and rehydrate with provided bottles of water. Our state of the art stereo system with Bluetooth will have you rockin' to the tunes that you want.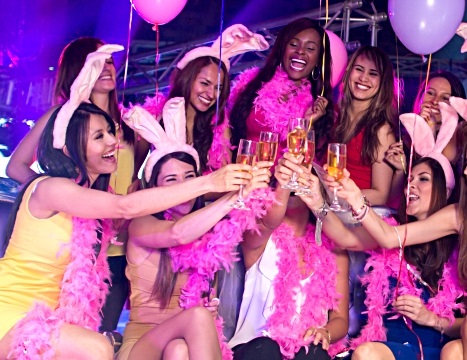 Times like this call for a special celebration, and with our party buses or any of the vehicles in our fleet, your bridal party will enjoy hours of entertainment. We offer an array of packages up to all-day events (ending no later than 1AM), and we can provide a custom quote as well to ensure that you get to and from each of the stops along the way, safely and stress-free.
Call To Book Chauffeur Service For Your Bachelorette Party
Get Limo Service For Your Bachelorette Party
Let's face it, bachelorette parties can get pretty crazy, and any bride-to-be and her bridesmaids will likely consume some adult beverages. When you hire a professional driver and one of our vehicles, we'll be looking out for your best interests, doing our best to make sure you get home safely rather than spending a night behind bars because of drunken driving or other such occurrences.
And most bachelorette parties consist of more than just a drive from just Point A to Point B. There is no need to coordinate multiple routes with multiple drivers. We'll take on the stress of traveling so that you can be where you want to be, when you want to be there, all while spending time with people you love. And since we've been driving for bachelorette parties for years, we can even offer some great suggestions to keep your night fun and interesting.
Travel In Luxury & Celebrate In Style
If you're looking for something extra special for your evening, be sure to let our staff know when you contact us for your reservation. From rolling out the red carpet to a tuxedo-clad driver (we love taking photos with our brides-to-be), to party favors, snacks, and more, we can work with you to customize and tailor your even to be absolutely perfect. So in words of Pink, "Let's get this party started!"